Reclaim your health and strength before returning home.
Is your loved one recovering from a surgery or illness? Or do you know you have a surgery scheduled that will require a little more support before you're ready to return home safely?
Our programs, offering short term rehabilitation for seniors, help patients transition from the hospital to home. As the area's hidden gem in health care services, Mulberry Health offers intensive therapy programs onsite in our own fully equipped therapy gym. Additionally, our therapy staff are Mulberry Health employees. We offer a full range of senior rehab services in physical, occupational and speech therapies.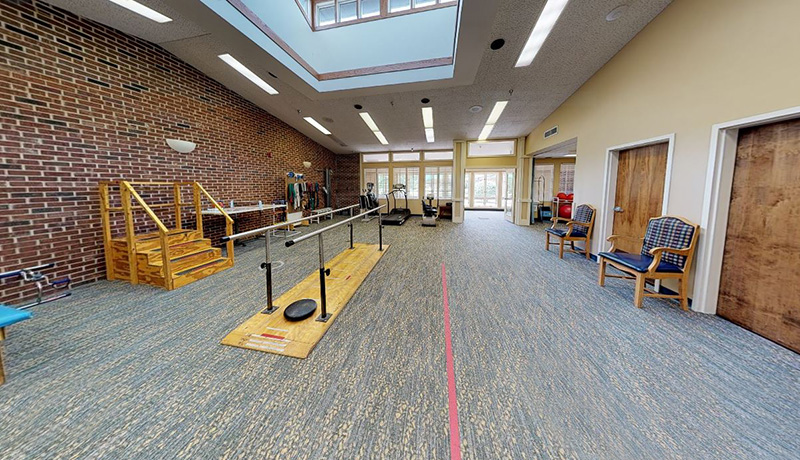 At Mulberry Health, we go the extra mile for you.
Our therapists can also attend follow-up appointments with you, so we can be more responsive to your needs and offer complete updates about your progress. We believe this direct communication is a critical part of ensuring the highest quality of care. Supporting our patients this way also ensures the fastest and safest path home, minimizing the potential for re-hospitalization later.
You will work hard to reclaim your strength while you're at the Mulberry Health senior rehab home, but we will also make sure you're comfortable. Our suites offer 460 square feet of space, and they are set up like a studio apartment complete with furnishings including a bed, nightstand, recliner, loveseat, and a dining table with chairs. Each suite also features a bathroom with a wheelchair accessible shower and a small kitchenette. We provide three meals a day along with snacks as part of your stay, but sometimes it's nice to have a place to enjoy special treats of your own.
Before you leave Mulberry Health, one of our therapists will schedule a home visit with you. They will watch you in your home environment to ensure that you are functionally safe. The therapist will also talk through guidelines for you to be mindful of upon returning home.
Between our therapy team and our nursing staff, we will work with your doctor to get you home as quickly – and safely – as possible so you can return to the lifestyle you enjoy. Have questions about senior rehab at Mulberry Health? Contact us! We'd love to hear from you!
Mulberry Health Physical Therapy
(Virtual Tour)
INDEPENDENT LIVING
When you retire, life is supposed to get easier — and it doesn't get much easier than the maintenance-free independent living experience of the Cottages of Mulberry.
LONG-TERM CARE
Imagine the security of knowing that you or your loved one is getting the very best longer-term care possible.
OUTPATIENT THERAPY
If your doctor recommends physical rehab services, our team of highly trained physical, occupational and speech therapists are ready to help.
MEMORY CARE
Alzheimer's disease is a complex and intensely demanding diagnosis that requires unwavering patience and specialized memory care.
Questions? Get in Touch
Mulberry Health is here to help you find what you're looking for.